Successful
CAREERS
Begin Here
Rewards & Benefits
We recognize the time and effort our team members put into their work, and we are proud to offer competitive benefits, compensation, incentives, and achievement awards.
NFIB offers
a comprehensive benefits program
to its employees. Find short descriptions of these benefits below.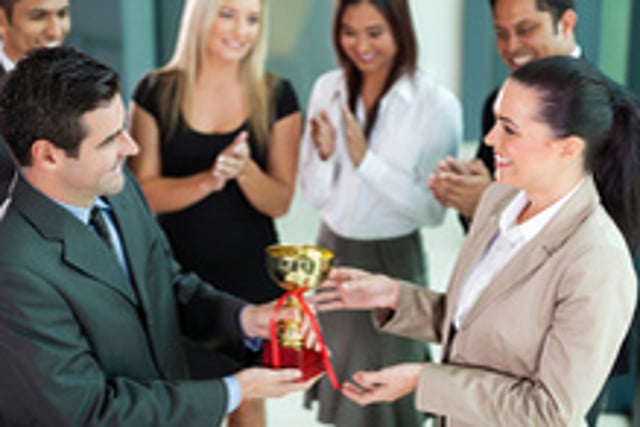 REWARDS AND BENEFITS
We invest in your future by providing multiple ways for our team members to grow professionally and personally through tuition reimbursement, leadership development, job training, and mentoring.
"NFIB is not just a job; it is a career. It is the greatest career I have ever experienced. NFIB provides me with the freedom and independence to navigate a successful career while still having balance at home. The culture at NFIB and the fight for free enterprise inspire me to start every day with motivation and purpose. I encourage you to find your purpose and remember why we do what we do."
Steve Lyon – Membership Representative - 5 years
"I came to work for NFIB after a career in teaching. I was looking for meaningful work in a positive environment. I found it at NFIB! I truly enjoy coming to work and being a part of this organization in its mission to improve the business climate for small business owners. Management and fellow employees are a group of caring individuals who welcome my ideas, answer any questions I may have, and provide solutions to issues when needed. I have worked for NFIB for four years as a Member Care Representative. My previous experience working with a diverse group of people has proven to be invaluable in my present position. I speak with NFIB members and assist with a myriad of questions, concerns, requests, and renewal payments. NFIB is a great company to work for and provides many opportunities for personal growth within the company."
Teresa Perry – Membership Care Representative - 4 years
"Working at NFIB provides tremendous opportunities. It is one of the few places where you can truthfully say that you are making a positive difference in this country. Regardless of the department, the goal is the same - protect the right of small businesses to own, operate, and grow their business. Once the first small business owner thanks you for protecting their business, their livelihood, and by extension, their families, you will never question whether you made the right choice in choosing NFIB."
Rob Smith - Staff Attorney - 3 years
"I started my career with NFIB on August 1, 2022. From my first day I KNEW this is where I was meant to be. NFIB embraces its core values of providing personal and professional growth, collaborating on ideas, and recognizing its employees. It is evident from the top down! The leadership team truly leads by example and elevates the entire organization to be the best it can be. They provide a comprehensive benefits package that encourages wellness and work life balance. I love being part of an organization that lives its core values each and every day!"
Rachelle Hunnicutt - Planner, Meetings and Travel - 1 year
"If you are looking to be a valued member of a great team and work for an organization that truly puts its members first, NFIB is the place for you. From compensation to benefits to culture, NFIB has been a wonderful place to work and call home. I consistently feel supported and respected in my role throughout the whole organization which really allows me to do what I love and that's supporting our small business community."
Blake Glinn - Grassroots Manager - 1 year
"Seems only yesterday that I started this journey at NFIB and yet here I am, 31 years later wondering where did the time go. It has been a great experience. Like any great team you have encouraged me, shared your wisdom and laughter, and made me better. The strength of any great organization is its people and I can say all of you make NFIB a great place to be."
Kevin Evetts - Operations Services Director
(retired) - 31 years
"There are even more wonderful things about an NFIB career, starting with the benefits! There aren't words to describe the peace of mind and the security I feel, knowing that I have my family covered now. The flexibility of this job also helps me to be a better dad and husband."
Blaine Bambrough - Division Manager - 12 years
We Celebrate Success
NFIB understands recognition as an effective way to reinforce our culture, support our objectives, and retain top performers. We are committed to creating an environment where employee contributions are noticed, appreciated, and rewarded. We have ongoing recognition and incentives including an annual sales President's Club trip. We appreciate teamwork and recognize each person has a valued contribution to make while we celebrate success and have fun.
This link leads to the machine-readable files that are made available in response to the federal Transparency in Coverage Rule and includes negotiated service rates and out-of-network allowed amounts between health plans and healthcare providers. The machine-readable files are formatted to allow researchers, regulators, and application developers to more easily access and analyze data.